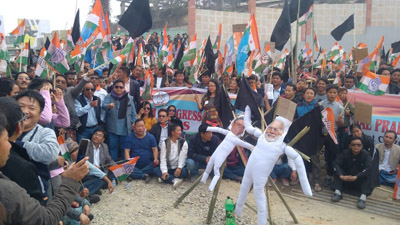 Staff Reporter
ITANAGAR, Jan 24: The protest against the controversial citizenship amendment bill (CAB) is gaining momentum with the Arunachal Pradesh Congress Committee (APCC) on Thursday staging a massive protest rally outside the civil secretariat here.
Hundreds of party workers led by APCC president Takam Sanjoy and Congress Legislature Party leader Takam Pario earlier marched from Rajiv Gandhi Congress Bhavan to the civil secretariat gate, where the agitators burned the effigies of Prime Minister Narendra Modi and Chief Minister Pema Khandu.
Addressing the rally, Sanjoy condemned the CM for supporting the controversial bill.
"Chief Minister Pema Bhai has supported the CAB 2016 through the media. This is totally illegal, without realizing its ramifications in Arunachal Pradesh. The Congress party is vociferously opposing the bill," he said.
Sanjoy accused the chief minister of being "busy flying around in choppers at a time when the draconian law (CAB) is being imposed on the indigenous people.
"Instead of paying attention to the issue, the CM is busy in 'Arunachal Rising' campaign," Sanjoy said.
"The Congress is the only party which fights for the cause of the people of Arunachal Pradesh. Today's rally is a manifestation of the people's support to the Congress party against the CAB," he added.
Terming the bill "discriminatory, with communal overtones," Sanjoy said the CAB gave free licence to Chakma and Hajong refugees and superseded the Bengal Eastern Frontier Regulation Act 1873.
"The BJP government cannot turn the Northeast region and Arunachal Pradesh into a dumping ground. This law is against Arunachal Pradesh," said Sanjoy.
The Congress leaders and workers vowed to continue their agitation against the bill "until it is scrapped from the parliament."
Sanjoy also flayed organisations and civil society groups in the state for allegedly being silent on the issue, and appealed to them to "join hands in the fight for the indigenous people's rights."
The CAB was passed in the Lok Sabha recently, amid vociferous protests from the opposition parties as well as a few NDA allies.
On the same day, the All Arunachal Pradesh Students' Union had enforced a 12-hour statewide bandh in support of the Northeast Students' Organisation's call for a regional shutdown in opposition to the bill.