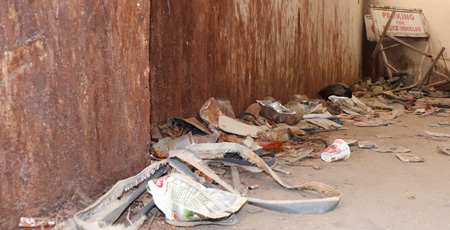 Staff Reporter
ITANAGAR, Feb 12: The Techi Takar parking lot at Bank Tinali, which was inaugurated with much fanfare, has turned into a dumping ground of sorts with no one taking care of the lone parking lot in the capital complex.
The parking lot was inaugurated by Environment & Forests Minister Nabam Rebia in February 2017. Now the condition of the building, which was expected to ease traffic congestion in the Bank Tinali area, is pathetic.
"One of the main reasons for traffic jams in the area is parking of vehicles near the highway. The capital administration at that time had announced
to make Bank Tinali area a no-parking zone by diverting vehicles to the parking lot. But people are not making use of the parking lot," said a resident.
The residents also alleged that youths have turned the parking lot into a bar, and that several youths are found drinking inside the building at night.
"It has become a meeting point for antisocial elements. The place is also dirty and stinks. Why have the capital administration, the IMC and the urban development department abandoned the parking lot?" a resident of Bank Tinali demanded to know.