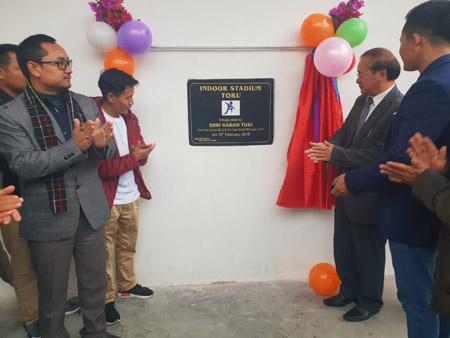 SAGALEE, Feb 18: Former chief minister and Sagalee MLA Nabam Tuki on Monday inaugurated several developmental projects in Sagalee and Toru subdivisions of Papum Pare district.
Tuki congratulated the engineers, contractors and workers for the timely completion of the projects, and complimented the engineers for ensuring quality work. He urged the people to take care of the assets, and to ensure that they are used in public interest.
Speaking to the doctors and nurses at the Sagalee CHC, Tuki assured to provide an ultrasound machine out of pocket for the CHC, and requested the Papum Pare DMO, who was also present, to
immediately post an ultrasound technician for the CHC.
Tuki also inaugurated the double-storied school building of the government higher secondary school in Sagalee, and the indoor stadium and the Nyokum cultural stage in Toru.
Sagalee ADC S Lowang, Sagalee PWD Division EE Nabam Takar, DMO Tasso Khampu, Toru CO Radhe Omo also spoke.