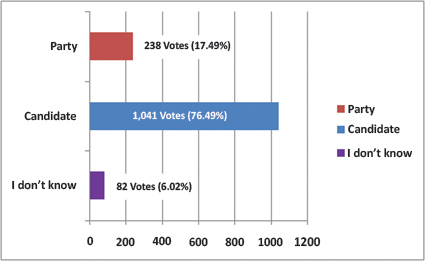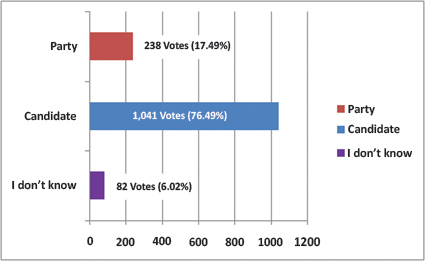 Comments from readers: –
1. Work or any progress has to be made by the candidate and not by the party. So, choosing a good candidate can bring many positive developments.
2. A person of good morality and leadership quality will get my vote, irrespective of his party. Honesty and trustworthiness matter.
3. Party doesn't matter if the candidate is capable, legitimate, accountable and transparent for overall development, particularly of their constituency and the state in general.
4. Party is important, but above all, the person must be a better human being.
5. Nowadays party doesn't matter in Arunachal; rather, candidates who have a clean image and record should be voted to power, though he/she may be economically weak. Hope to see the change in the mindset of the voters this time.
6. I always vote for the candidate. In our state, party is a mere word for candidature. Our elected representatives don't have any issues shifting from one party to another. However, the candidate whom I have voted for would remain the same.
7. In nascent tribal states like Arunachal Pradesh, ideology and political loyalty is far from reality. The reasons are many, but I would attribute the major onus on the political leaders who don't have the audacity to sustain themselves and are bereft of any ideology. Nobody wants to sit in the opposition. Political parties in the state are appealing to the electorates to support them on the basis of party lines, but I would say people should come out and vote for the candidates who are the best for their respective areas, irrespective of party affiliations.
8. Political party is all about ideology, but supporting a true leader from any could be beneficial for the state in the long run.
9. A good candidate will work for the welfare of the people and the place.
10. Party has nothing to do here in Arunachal Pradesh. Voting for an individual candidate, based on their work record and experience, is far better.
11. Irrespective of party lines, the tribal population votes only for the candidates of their respective areas. In simple words, it's kinship and clan-based politics.
12. Arunachal Pradesh isn't particularly a place for party-based voting. It's more candidate-related. It is yet to be mature enough to become a party-based voting state. Here people have a myopic view of what a party stands for and their principles and goals. It's the candidate's character, affinity and manifesto that appeal to the voters.
13. I believe the people of Arunachal have always voted for the candidate, irrespective of the party he/she belongs to. But the political scenario in the state is such that party affiliations and party defections are very common occurrences. I believe only an able and efficient candidate deserves my vote.
14. The productive individual will always work for the people, whichever party they are in. There is no concrete party ideology system in Arunachal Pradesh. They shift their parties like a chameleon to escape adversities.
15. Parties are platforms to deceive the public and loot people's dreams. Democracy in India needs serious overhauling and maintenance.
16. Candidate change the party; there is no sustainable political in Arunachal Pradesh.
17. A good representative will always be a responsible leader, wherever he is. He is expected to step out if the party ideology hurts the local sentiments.
18. I will vote for a candidate whose vision and plan inspires me; otherwise NOTA is there.
19. Voting in Arunachal has been candidate-based, irrespective of leadership quality, which is mainly due to low density of voters. Moreover, the disease of simultaneous changing of party along with the central government by the ruling state government proves that there is no party ideology. A candidate speaking in support of or against a party is sheer hypocrisy in AP.
20. The time has come for things to change. The citizens should not vote for the party but instead vote for good and efficient leaders, cutting across party lines. We need to elect leaders who can deliver the goods.