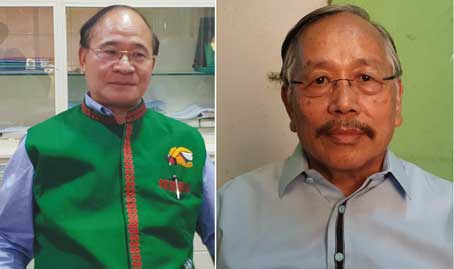 Tuki to contest Lok Sabha and Assembly elections
[Nellie N Manpoong]
ITANAGAR, Mar 17: The Indian National Congress officially announced Nabam Tuki and James Lowangcha Wanglet as its candidates for Arunachal west and east parliamentary constituencies, respectively on Sunday.
Former chief minister Nabam Tuki will be playing a historic dual game as he is also set to contest for the assembly election from 15th Sagalee assembly constituency (AC).
While Tuki claimed that he was unaware of his name being listed for the east parliamentary constituency, he said that he would have to oblige with the party's decision.
"I was not prepared to be the Lok Sabha candidate, which is why I had not applied for it. This political decision must have been taken on a high level as former chief ministers were being asked to contest the Lok Sabha election.
I will have to oblige with the decision of Rahul Gandhi as he requires numbers to be the prime minister. We will have to fight for the party together," Tuki said.
He also expressed his sadness at the exit of Jarjum Ete from the party.
"I thought she would get the ticket, but only the party knows how the decision came to be. The politics of Arunachal is such; while many have left, several others have joined in. And those who have come may also leave some day. We are like a family," he added.
Meanwhile, he was hopeful of the support of the people in both elections and said, "I am a tested leader. Both elections are important to me. I cannot leave the people of my constituency. Luckily, 15th Sagalee AC comes under Arunachal western constituency, so there will not be much difficulty in carrying out developmental activities," he added.
Later, addressing a gathering at the Rajiv Gandhi Bhawan, Arunachal Pradesh Congress Committee (APCC) president Takam Sanjoy congratulated both Wanglet and Tuki for their nominations.
He said the entire party supported Tuki's candidature in both the Lok Sabha and Rajya Sabha elections, and called on the party to "see to it that Tuki emerges as the MP of Arunachal west parliamentary constituency."
"We want to see a Congress government in the centre or a Congress-supporting government. Consequently, we will nominate Tuki as a union minister from here. We are sure you will win in Sagalee which is why we want you to contest for the MLA seat as well," he told the gathering and Tuki.
"We will share the load of the Lok Sabha," he assured Tuki, while adding, "we are certain of winning in both places."
Former home and finance minister James L Wanglet also expressed his joy on being awarded the candidature and was hopeful of winning in the Arunachal east parliamentary constituency.
"Once I win, I have a lot of vision for the state of Arunachal in general and for east Arunachal in particular," he added.
Earlier, former PWD executive engineer Tai Nikio was also inducted into the party. He is expected to contest from the 19 Nyapin-Sangram assembly constituency.
Additionally, Sanjoy informed that All India Congress Committee president Rahul Gandhi will arrive in the state capital on 19 March at around 11.30 AM and address a gathering at the IG Park.