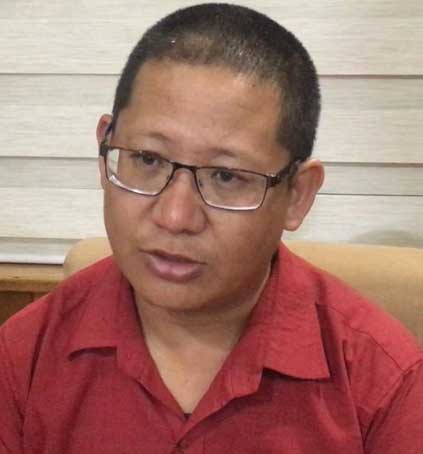 Lama Lobsang Gyatso to go up against Pema Khandu
[Nellie N Manpoong]
ITANAGAR, Mar 17: The Janta Dal (Secular) declared its first list of candidates for the parliamentary and assembly elections here on Sunday evening with some impressive names.
Fielding 38-year-old monk Lobsang Gyatso in 3-Mukto assembly constituency, the JD(S) is set to give Chief Minister Pema Khandu his first electoral battle.
After his father, former chief minister Dorjee Khandu's death in 2011, Khandu had won the by-election unopposed in Mukto. He was re-elected unopposed in 2014 from Mukto and was sworn-in as the chief minister in 2016.
A former general secretary of the Save Mon Region Federation (SMRF), Gyatso is known for his anti-dam movements, and actively advocates for social and ecological protection of the Mon region.
Popular as Anna Lama, Gyatso told this daily that "the people have not had the opportunity to vote in the assembly elections for nearly 25 years and that it was time they exercised their right to adult franchise."
"The chief minister will also learn the difference between one who is selected and one who is elected," he added.
Gyatso said he was not interested in politics, but noted that their protests and rallies to save the environment "fell on deaf ears."
"Our voices were not being heard because we lacked legislative powers," he said while pointing out the necessity to join politics to make a change.
Gyatso was set to contest the assembly election in 2014, but said that he was made to withdraw from it due to some political game play.
However, Gyatso is not the lone monk to contend for the Mukto seat.
Reportedly, former abbot of the Gontse Gadan Rageyling Monastery, Ven Thupten Kunphen may contest the assembly election from the Congress ticket.
Gyatso welcomed the candidature of the former abbot and said it was necessary to give the people options to choose their representative.
Earlier, JD(S) state president Rokom Apang informed this daily that the party's first list includes 11 candidates for the assembly election and one for east parliamentary constituency.
Apart from Gyatso, the first list of candidates also includes veteran state leader and former chief minister Gegong Apang, who will contest from 34 (ST) Yingkiong-Tuting in Upper Siang district.
Former National People's Party East Siang district unit president Tapang Taloh will stand from 37 (ST) Ruksin, Pasighat West and former Peoples' Party of Arunachal Tawang unit president Tsering Dorjee will contest from 2 (ST) Tawang.
Both the candidates have recently resigned from their former political parties.
Other candidates include Wangshu Wangsu (59-ST Longding-Pumao), Wangmaan Lowangcha (55-ST Khonsa East), state JD(S) vice president Dr Rima Taipodia (28-ST Likabali), Nyadar Loya (30-ST Aalo West), Takam Paleng (48-ST Lekang), Shotike Hopak (47-ST Namsai) and Pike Pulu (49-unreserved Bordumsa).
Further, Bandey Mili has been selected as the candidate for east parliamentary constituency from Dibang Valley district.
The JD(S) state president said that the party hopes to field over 40 candidates in the assembly election and that a second list will be out soon.
"The candidate for west parliamentary constituency will also be announced by Monday," he added.
The candidates had also met former prime minister and JD(S) national president, HD Deve Gowda recently and were issued party tickets.