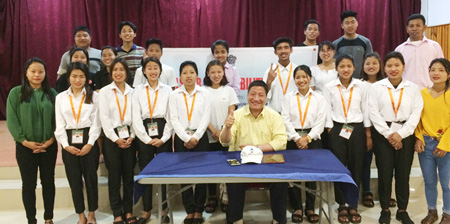 ITANAGAR, Mar 31: A three-month-long residential training programme in hospitality management, organised by the Don Bosco Youth Centre (DBYC) here, concluded on Saturday.
The programme guarantees 100 percent job placement, DBYC coordinator Ethel Ezung informed in a release.
Speaking at the valedictory function, Delhi Armed Police Special Commissioner Robin Hibu exhorted the trainees to take care of their personal safety as they would be working away from the Northeast. He also urged them to keep away from "relationships" at their places of work, saying such things mostly "end up badly."
The commissioner offered assistance of NGO Helping Hands to the youths going out on placement, and advised them to walk the right path.
DBYC director Fr Cyriac said the DBYC is "committed to the young people even after years of placement."
He urged the trainees to stay in touch with the DBYC, and asked the trainers to participate in the periodic post-placement evaluation conducted by the DBYC.
The trainees will start working in front office management, housekeeping and food and beverage service in four-star and five-star category resorts and hotels, and will initially earn a minimum of Rs 7000 besides food and accommodation in campus for the first six months, Ezung said.
"Thereafter they will be absorbed as temporary employees for yet another six months, and then as regular employees with all benefits, including provident fund and substantial increment in pay," she said.