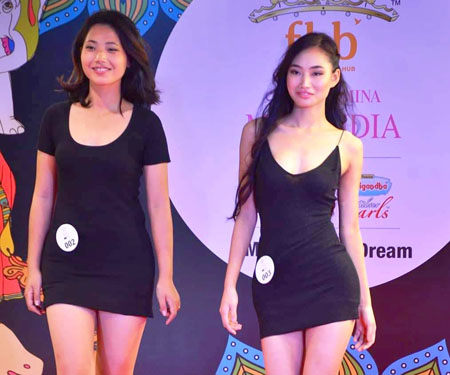 GUWAHATI, Mar 31: Reigning Miss Arunachal Roshni Dada has been selected as the FBB Colours Femina Miss India Arunachal 2019.
Dada was selected at the FBB Colours Femina Miss India east zone audition, organised by the Miss India Organisation here in Assam on Sunday.
A large number of girls from all the eight Northeast states participated in the event where the audition was held to select one girl from each state to represent their state at the finale of the FBB Colours Femina Miss India 2019, to be held in Mumbai.
From Arunachal, three girls had participated in the audition – Dichenla Wangmo Thungon (Miss NEFA 2018 winner), Apik Dai (Miss Arunachal 2019 Top 20 finalist and Miss NEFA 2017 2nd runner-up) and Roshni Dada (Miss Arunachal 2019 winner).
The crowning of the East Zone Femina Miss India 2019 will take place soon in Kolkata, and Dada will be crowned as Femina Miss India Arunachal 2019 on that day, along with the other selected girls from the Northeast states and West Bengal.
After that, she will vie for the coveted crown of Femina Miss India 2019. The final showdown will take place in Mumbai after two months.
Miss Arunachal 2019 organizing chairman Kipa Niba said he was happy about the news of Dada's selection.
"She deserves to represent the state. She has made us proud as winner of Miss Arunachal 2019. I extend my bests wishes to her. We are and will always be there for her," he said.