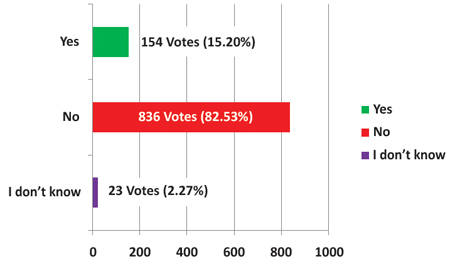 Comments from readers: –
1. It is tantamount to betrayal and deception against the voters of a constituency. The nexus and conspiracy among the candidates pave way for corruption and people cannot exercise their right to adult franchise. The candidates who withdraw after standing should not be considered next time because it's their supporters who face untold political miseries.
2. It deprives us of our right of choice. A short-cut, although less expensive and troublesome, but not acceptable.
3. This practice is unconstitutional.
4. It is unfair to win without election. But where is democracy in Arunachal? Money speaks louder. Votes are bought. Party tickets are sold and distributed for self gain by the people at high levels.
5. To be honest, I have not voted a single time. And there are many other countries where minorities never really vote for the rich and powerful classes of people. Still, it does not mean that the candidate will lose anything.
6. Nothing is permanent. Nothing is perfect. Elected unopposed sometimes shows the acceptance of the people, and sometimes it is power, be it money or muscle. However, this saves time and workforce in some way.
7. It's totally unjust in a democracy. This procedure of scrutiny system should be amended by the ECI because a majority candidate is disqualified from contesting an election unnecessarily for even a minor reason. The majority is deprived and democracy fails.
8. Since the questions' concern is only democracy, my poll goes for 'No'. Because in a democracy every voter has his/her choice of candidate and ideologies and he/she finally votes. Unless votes are cast and the results known, how can the candidate, the party and the rest of the people know that there are a certain percentage of people who are opposed to or are unhappy with the candidate, the party or its ideology. For Arunachal Pradesh, winning uncontested is very good. In our state aspiring candidates have to spend huge amounts of money to win elections. Starting from the date of declaration of candidature, supporters are to fed with liquors, food, transportation, fuels, etc, and currency to woo the voters. After winning the election, the candidate has the foremost responsibility to recover his/her election expenses with interest. If a candidate wins uncontested, he/she could start working for developmental activities straightaway as he/she has no financial liabilities to recover.
9. When PM Narendra Modi said during his visit to Arunachal Pradesh in 2014 that the winning of candidates unopposed was because of the role of money and encouragement of corruption by the congress government, he added that if the BJP came to power then he wouldn't allow the politics of buying fish from the market. But in Arunachal the practice of buying fish is becoming a trend even during the time of the BJP government. Candidates are being elected unopposed, people have no option and are unable to cast their votes and elect good leaders because of the fish market system of candidates during elections. It is a direct torture of democracy and violation of our fundamental rights. I ask our PM why the practice of buying fish is still going even in your BJP government.
10. It would be an injustice to the people of a particular constituency. I believe that winning uncontested is not a healthy form of democracy. There should always be an opposition to balance the scales. And elections should be contested fairly without the use of money and muscle power. But wait, this is Arunachal Pradesh, where everyone is corrupt. It's high time we cleaned our corrupt mindset.
11. People should be allowed to choose their leaders, not have them drop from the sky.
12. In the context of Arunachal Pradesh, where money culture is too high, it is better to be selected than elected.
13. It is doubtful. Uncontested candidates are either gods or cruel persons who illegally buy off their opponents.
14. On paper it is uncontested, but under the table the candidates have made a deal. Sadly, everybody knows it.
(Visit our website : https://arunachaltimes.in for the next online poll question.)