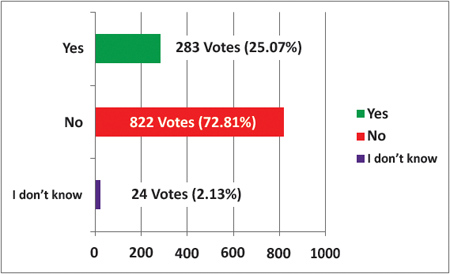 Comments from readers: –
1. I'm not for sale.
2. Better get Rs 15,000 now because I will get nothing in the next 5 years.
3. As a responsible citizen, I voted for development and not for money.
4. In Arunachal Pradesh everyone is corrupted, everyone is running after money. So I must take the opportunity.
5. It's my own right & duty. How can I sell my vote for cash or kind? It's the only time to change corrupt leaders and bring about good leaders for good governance and development.
6. I totally believe in democracy, that's why I totally ignored the suggestion of my parents and elders regarding who I should vote for. I really want to change the leader because good leadership means good government .
7. Though I received money from the political party from all corrupted leaders as recovery of citizen's welfare fund, but voted for a candidate of my own choice.
8. Since 2009 I was able to exercise my adult franchise, since then I have never sold my valuable vote. I have also voted for the greater/progressive nation and state.
9. Do you have the right to ask this question so blatantly?
10. Never sell my vote. I must want to choose a right person for my area.
11. I am an educated person. I will never sell my vote. I would rather provide money for a candidate running for the election.
12. My integrity has not permitted to do so. But in my first experience, I was shocked to know that the citizens of our state have sold their rights and consciousness for a few thousands. As many say, "election is the march ending for the general voters".
13. Casting of vote is the beginning of democracy. If I sell my vote, murder of democracy in the beginning itself.
14. Election is not about earning profit, it's about choosing the right one.
15. I sold my vote for all round development, for our constituency, our state, our nation. Yes, I sold my vote for development!