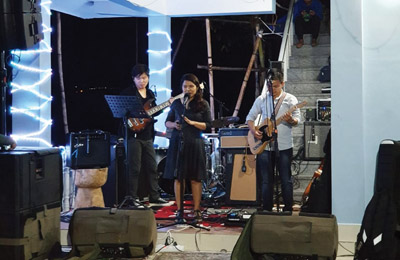 ITANAGAR, Apr 30: Itanagar joined the rest of the world in celebrating International Jazz Day on Tuesday with a host of musicians taking the stage to sing and play jazz numbers.
In 2011, the UNESCO officially designated 30 April as International Jazz Day to highlight jazz and its role in uniting people in all corners of the globe.
This was the 4th edition of the celebration in Itanagar. The event saw the participation of 12 artists, most of them from Arunachal Pradesh.
"Music brings people together, and jazz is one of the oldest forms of music. It is the music of the suppressed. Historically, jazz symbolizes hope and togetherness. It is an effort by us to keep the tradition alive," said Carolina M Norbu, who enthralled the audience with her cover of the song Why Don't You Do It Right? by Peggy Lee.
Celebrated in a smaller scale than the previous editions, the event still saw a considerable number of jazz enthusiasts braving the weather and grooving to the tunes.
"It feels wonderful to have so many youths be a part of this event. It is important that they channel their energy into something positive that may lead them to choose alternate careers rather than waiting for mainstream jobs," said Haggai Rongmei, who sang a Brazilian bossanova.
This was also the first time that the musicians organised the event in a DIY form, to the effect that everything from scratch was done by the musicians themselves, primarily to appreciate jazz as a musical form and introduce it to the people.