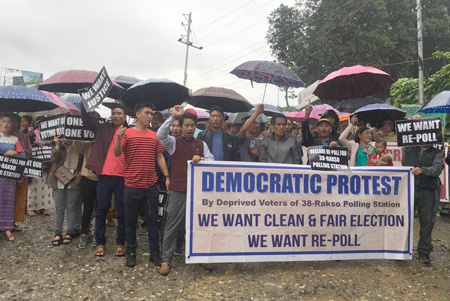 Staff Reporter
ITANAGAR, May 11: Voters of Rakso village in the Palin-Chambang assembly constituency of Kra Daadi district who are claiming to have been deprived of their voting rights staged a protest outside the Nirvachan Bhavan here on Saturday, seeking fresh polls for Rakso "at a neutral area" within seven days.
After the first notified polling on 11 April, fresh polls were held on 27 April in Rakso, following reports of violence and booth capturing there.
Claiming that "democracy was brutally murdered" through booth capturing and use of force and threats during the fresh polls held on 27 April, about 40-50 voters protesting in the capital claimed that over 160 voters of Rakso were restricted from entering the polling area while some were "beaten black and blue" during the fresh polls on 27 April.
Citing complete breakdown of the election machinery, the 'chairman' leading the voters, Biri Niania, said, "The returning officer, sector magistrate, polling officers
and police force on duty were nothing but mere spectators."
The voters also claimed that the roads to the polling station were blocked, petrol bombs were thrown at the voters, and stones were pelted by the Janata Dal (United) candidate's workers while "the authorities responsible were inactive and the police force on duty was on standby."
Besides seeking fresh polls within a week, the voters said the polling should be conducted at a neutral venue, under strict vigilance and tight security.
They warned that if the election commission fails to meet their demands, they would launch more protests at the Nirvachan Bhavan and its branch offices in Palin and Koloriang.