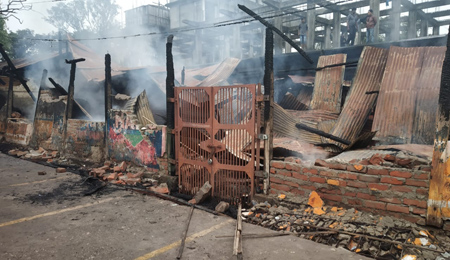 Correspondent
PASIGHAT, May 11: At least 34 shops were gutted in a devastating fire which broke out at the daily market here in East Siang district at around 1 pm on Saturday.
The fire gutted cloths and other items stored in the shops, causing huge losses to the traders.
Fire tenders from the Pasighat fire station and water tankers from the Pasighat airport rushed to the spot and doused the fire before it could engulf more shops and business establishments.
The cause of the fire is not yet known, but it is suspected to have been started by an electric short-circuit.
"We will conduct an inquiry into the mishap and unearth the actual cause of the devastating fire," said ADC (HQ) T Borang.
District Disaster Management Officer G Tsumo ruled out the possibility of the fire having been caused by an electric short-circuit, and has demanded proper inquiry into the incident.
In December last year, a fire that occurred at the APMC market here had gutted 20 grocery shops.