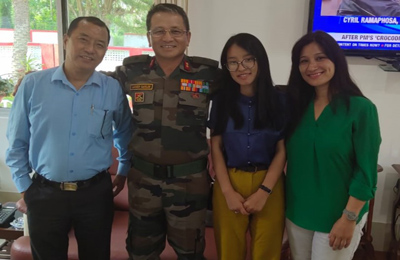 GUWAHATI, May 13: Ace mountaineer Anshu Jamsenpa on Monday called on Maj Gen Jarken Gamlin here in Assam and apprised him of the vast possibilities of mountaineering, trekking and other adventure sports in the Northeast region, particularly in Arunachal Pradesh.
During the meeting, Maj Gen Gamlin said conducting a joint mountaineering expedition in the Arunachal Himalayas would be a good idea for the promotion of adventure sports in the region.
He asked Jamsenpa to motivate the youths to join the defence forces, and recalled the Pay Back to Society Group's motivational interactions with students of schools and colleges to inspire them towards nationalism, positivity and contributing towards nation-building.
Jamsenpa was accompanied by her mother during the meeting.