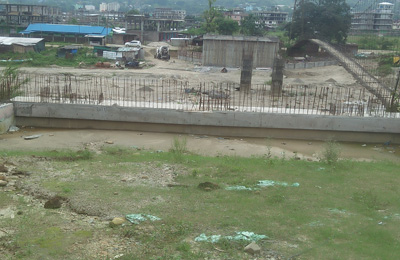 Staff Reporter
ITANAGAR, May 17: The delay in completing the work on the bridges connecting the Naharlagun helipad with Borum village and Lekhi with the Yupia railway station is causing massive traffic jams in Naharlagun area.
Due to unavailability of alternative routes, the majority of motorists travelling from Itanagar take NH 415 to reach Naharlagun, Lekhi, Nirjuli, etc. Massive jams can be witnessed every day on NH 415, causing immense trouble to the motorists and commuters.
The work on construction of the steel arch bridge near Borum village started more
than year ago, but its progress has been very slow. The PWD is the construction agency.
The work on the other bridge, coming up in Lekhi, which will connect NH 415 with the Yupia railway station, is also progressing at a snail's pace.
Once completed, these bridges are expected to considerably ease the congestion on NH 415 as those travelling to Naharlagun, Lekhi, Nirjuli, Karsingsa, etc, would be able to take these routes.
The delay in completion of work on the two bridges has made some citizens very angry.
"The state government, particularly the capital administration, is aware of the traffic problem in Naharlagun. Despite this, why are they not fast-tracking the work on these two projects? The constant traffic jam in Naharlagun is virtually testing the patience of citizens," said a resident of Naharlagun.
In March this year, Capital Complex DC Himanshu Gupta during a coordination meeting on traffic management directed the Naharlagun EAC and the Naharlagun SDPO to visit the two under-construction bridge sites, and to submit the status report to him.
Speaking to this daily, the DC informed that as the officials are busy on election duties, he is yet to receive the status reports.
However, Gupta said the administration is aware of the problem.
"As soon as the election process ends, our priorities will be to ensure early completion of these bridges. In various meetings, we have discussed about it, and we understand that the citizens are facing a tough time due to the delay in completing the bridges," he said.