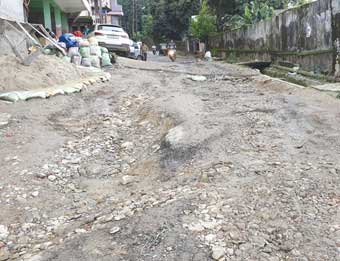 Staff Reporter
ITANAGAR, Jun 27: The road that leads to the offices of the superintendents of police (SP) of the capital complex and security is in a deplorable state, with motorists facing a harrowing time navigating it.
Even though the condition of road has been deteriorating, the PWD is yet to carry out any repair work on it. In the last few days, several two-wheelers reportedly met with accidents because of the road's condition.
"This road connects Ganga area with DDK and ESS Sector. It is a very important distributor road and helps to decongest the main highway. We have made several appeals to the PWD to repair it, but so far there is no outcome," said a local resident.
Reportedly, the monsoon rains have further damaged the road in recent days.
When contacted, Capital SP Tumme Amo said he, too, has informed the PWD's Capital Division B about the poor condition of the road and has written a letter in this regard.
Amo said he has requested the PWD to repair the road at the earliest in the greater interest of the public.