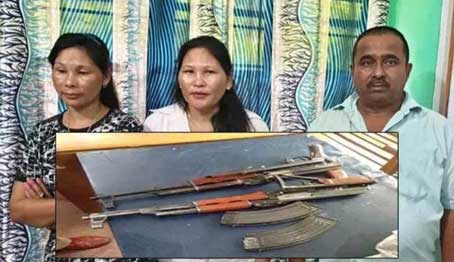 [Pisi Zauing]
DIBRUGARH, Jun 27: The police here in Assam, in coordination with the Changlang police and the 171 Bn CRPF, on Thursday arrested three persons with arms and ammunition in their possession.
The trio has been identified as Badrul Alam (48, male), from Jairampur, Akuyu Yobin (48, female), from Gandhigram, Vijaynagar, and Sayunu Yobin (36, female), also from Gandhigram.
Based on credible input, the police and CRPF team set up a naka at Jemson Tinali, under the Lahoal police station, at about 9.45 am on Thursday, and intercepted the white Bolero car (AS-23N-0173) in which the trio was travelling.
On searching the vehicle, the police recovered 2 AK-56 rifles, two AK-56 magazines, four magazine pouches, 15 rifle slings, one khukri, one pullout vacuum apparatus kit, and two bags of local herbal medicines.
According to information received, the interrogation of the three persons is underway.
While the involvement of the two women from Arunachal has shocked the people, the reason behind their possessing such sophisticated arms will be revealed when the interrogation is concluded.