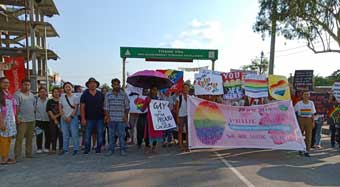 [Karyir Riba]
ROING, Jun 29: In a first-of-its-kind event in the state, young supporters of the LGBTIQ community came out on the streets here in Lower Dibang Valley district in large numbers on Saturday to create awareness about the community through a 'pride march' in the township area, and to mark the International LGBTIQ Month.
Brandishing banners and placards and shouting slogans, the youngsters marched from the old Roing gate to the Kera Aa general ground, where they gathered and shared their stories and experiences on the subject.
The event was organised by Eya, a newly-formed community which seeks to inculcate the value of art and literature among the youths, and to provide them with a platform.
The founders of Eya, Ushimi Linggi and Bhanu Tatak, and NGO AAMYAA's founder, RK Paul Chawang, also addressed the gathering.