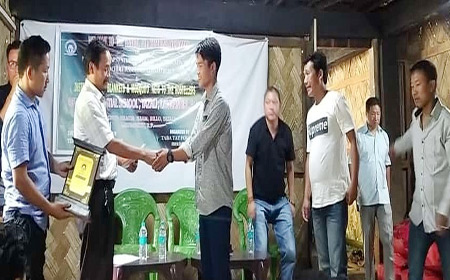 BILLO, Aug 11: The Taba Tat Foundation (TTF) organised a function at Billo village in Lower Subansiri district on Saturday to felicitate the APST topper students of Classes 10 and 12 of government schools under the Yachuli assembly constituency, to mark the 31st death anniversary of social worker and retired PI, late Taba Tat.
Fourteen hostel students of Peni Residential School (PRS), Yazali, were provided with blankets and mosquito nets by the foundation to mark the occasion.
Likha Nana was felicitated for scoring 85.40 percent in Class 10, and Tao Yazur was felicitated for scoring 72 percent in Class 12 (arts).
Education Minister Taba Tedir, who attended the function, advised the students to live a disciplined life and ensure cleanliness in and around their schools and homes. He also advised the students to plant trees and stay away from vices like drug abuse.
The headmaster of the government secondary school in Pitapool, Chukhu Khochi, commended the yeoman services rendered by the foundation. He advised the students of PRS to be sincere towards their academic pursuits, and urged the teachers to perform their duties with dedication.
Organizing chairman Taba Tath and TTF chairman Taba Amman Nagu spoke about the social and other activities undertaken by the foundation in the last one year.