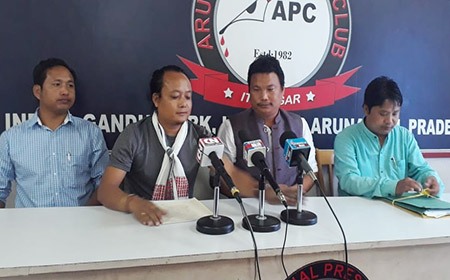 Staff Reporter
ITANAGAR, Oct 10: The All Nyishi Youth Association (ANYA) has announced a 12-hour capital bandh on 18 October, saying the state government has failed to meet its demands.
Briefing reporters at the Arunachal Press Club here, ANYA president Byabang Joram on Thursday said the association had submitted several representations to the state government, seeking modification to the district-wise quota system in the Arunachal Pradesh Staff Selection Board (APSSB) Act, 2018, to ensure "equal employment opportunity and to reduce the unemployment rate in every district."
The association said it had also sought introduction or inclusion of upto Rs 1 crore work order system in state government-sponsored schemes under the Arunachal Pradesh District Based Entrepreneurs' (Incentive and Professional) Act, 2014.
While it said that it received a clarification letter from the APSSB on 23 September this year in response to its representation for modification to the APSSB Act, the ANYA demanded a response from the state legislature, which it said "is the decision-making body in this immediate case."
It said ANYA general secretary Bengia Tada had also written to the chief secretary, demanding transfer of the education secretary for allegedly "targeting Nyishi officers of the department by demoting 27 headmasters, principals and ADEOs in the name of out-of-turn promotion."
It said the 12-hour bandh would be effective in the capital area only, including Banderdewa and Chimpu.
The ANYA also expressed sorrow over the death of Dinesh Sahani, who was assaulted on the evening of 8 October and later succumbed to his injuries.
While it said that the people from outside the state have the right to express their sentiments, the association was against the forcible shutdown of shops in Naharlagun.
"I appeal to all the outside traders and workers to carry on with their work and services in peace. If you are unhappy here, then we won't stop you from leaving," Joram said.