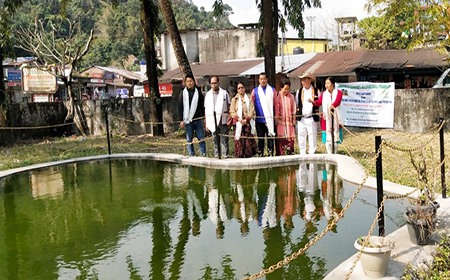 BHALUKPONG, Feb 9: Members of Sanskar Bharati Arunachal Pradesh (SBAP), who are on a 'heritage walk-cum-tour' to archaeological sites of the state, reached here in West Kameng district on 9 February.
The tour is being held to commemorate the birth centenary year of renowned archaeologist and culturist, Dr Vishnu Sridhar Wakankar, the first national general secretary of Sanskar Bharati.
Sanskar Bharati North East assistant regional chief, Sukhdev Biswas, informed the participants about the aims and objectives of the tour, and about Dr Wakankar's contributions to the world.
Indigenous Affairs Joint Secretary Tayi Taggu highlighted the activities of Sanskar Bharati, while Aka Indigenous Faith and Cultural Society of Arunachal Pradesh president Miali Sidisow spoke on the history of Bhalukpong and commended the SBAP team for visiting the area.
The team started the tour on 12 January from Itanagar. Earlier, they explored the Malinithan archaeological site on 2 February.