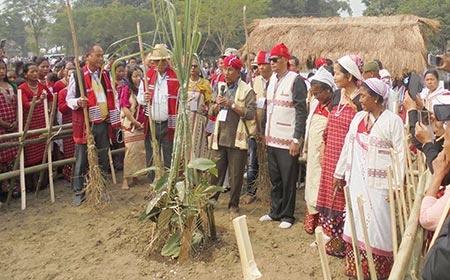 [ Prafulla Kaman ]
OYAN, Feb 15: The five-day Ali-Aye-Ligang festival of the Mising community started with traditional fervour and gaiety at the oiram bori lotta (festival ground) here in East Siang district on Saturday.
Besides the Misings of Oyan village, people from all walks of life participated in the main agriculture-based festival of the Mising community, wearing their traditional attires.
Attending the festival, former handloom & handicrafts commissioner Tahang Taggu exhorted the people not to mix political and communal issues with community festival celebration.
Enchanted by the lush green forests and the rivers of the foothill area, Taggu suggested to the villagers to develop the area as a tourist spot to boost the rural economy. He prayed to Kiine Nane for a bumper harvest of the Sali crops and the wellbeing of the community's people and their domestic beasts.
Pasighat West MLA Ninong Ering, who was the chief patron of the festival, urged the organisers to celebrate the festival in a grand manner, involving different communities, and assured to approach the state government for fund for this purpose.
Former MLA Tatung Jamoh lauded the Mising community for preserving their rich traditions and culture through festivities. He emphasized on having cultural exchange programmes to maintain the unity among the ethnic groups.
Mising Autonomous Council executive member Naresh Kumbang informed that the Mising Council is planning to erect Oiram Bori's statue in the Assam-Arunachal boundary area.
Celebration committee overall in-charge Mojit Pao read out the mythology of the festival, while Pasighat DFO (T) Tasi Mize asked the community's people to transfer their legacy to the younger generations.
Among others, Ruksin ADC Kabit Apang, Circle Officer Heera Panggeng, Oyan HGB Muhim Pait, and celebration committee president Boken Pao addressed the inaugural function.
Earlier, the festivity started with paying of floral tribute to the pioneer of the Mising culture, Ba:bu Oiram Bori, and sowing of Sali seeds by the invited guests. This was followed by Gumrag (traditional song-dance), discussion on the Ligang mythology, and other cultural competitions.
A cultural procession was also taken out along the Sille-Oyan portion of NH 15 to mark the occasion.
Ali-Aye-Ligang stands for 'first sowing of seeds and roots of Sali crop'. 'Ali' stands for Sali crop, 'Aye' for fruits or seeds, and 'Ligang' for the beginning of sowing.