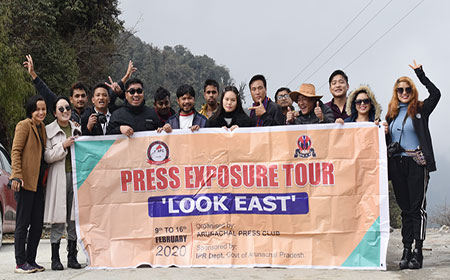 ITANAGAR, Feb 16: The team of journalists of the state which was on a weeklong exposure tour of eastern Arunachal expressed dismay at the sight of piling trash, poor waste management, and the absence of signboards along the road in the picturesque Mayudia Pass in Lower Dibang Valley district.
The snow-covered Mayudia Pass draws hundreds of foreign and domestic sightseers every winter. However, with the increase in footfalls, waste has also increased considerably, which raises questions about conservation efforts.
Echoing the sentiment, Arunachal Press Club (APC) president Dodum Yangfo, who led the team, appealed to tourists to
not litter the place but "be a part of the 'Clean India' campaign in letter and spirit."
Earlier, after completing the trip to Changlang district, the team arrived in Walong, in Anjaw district, on 12 February. The next morning, the team visited Kaho, the last border village which lies north of the country's easternmost administrative circle, Kibithu.
The APC organised the weeklong tour from 9 to 16 February. It included visits to historical and tourist places in eastern Arunachal, such as the war memorial in Walong erected in memory of soldiers of the 11th Infantry Brigade of the Indian Army, the hot spring in Tilam village, and the advanced landing ground in Walong. The team also witnessed the ongoing Tamla Du festival celebration of the Mishmi tribe in Tezu, in Lohit district.
Sponsored by the IPR department, the tour was coordinated by APC general secretary Tanom Jerang and office secretary Jun Taki.