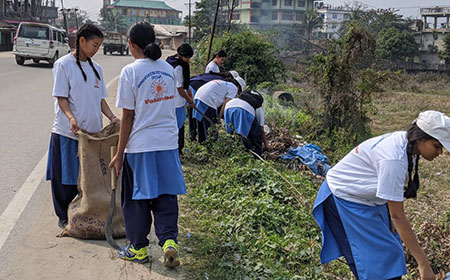 NIRJULI, Feb 16: Fifty members of the NSS unit of VKV Nirjuli are participating in a weeklong special camp at Nirjuli Village 1, undertaking a series of activities, such as cleaning the village, making the village plastic-free, planting saplings, wall-painting, etc, since 16 February.
The camp, which will conclude on 22 February, is aimed at creating awareness among the people and empowering them, the NSS unit informed in a release. It is being conducted under the supervision of the school's teachers and NSS Programme Officer Abhijit Kr Barma.
Besides cleaning the village, along with the Dikrong river nearby, the volunteers will paint the roadside walls in the village, carry out plantation, generate awareness among the villagers about health and hygiene and the ill-effects of using plastic, and interact with senior citizens.