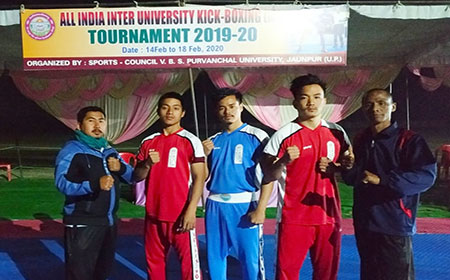 ITANAGAR, Feb 18: Kende Mugli (-69kg) representing Himalayan University (HU), Jullang, and Tamuk Riang (-63 kg), representing Rajiv Gandhi University, Rono Hills, bagged a silver medal each in the All India Inter-University Kickboxing Tournament, which concluded at Veer Bahadur Singh Purvanchal University in Jaunpur, UP, on Tuesday.
Mugli and Riang bagged the medals in the point fighting event, informed the Kickboxing Association of Arunachal.
Taro Duchuk (-84kg) from HU also won a bronze medal in the tournament in point fighting.
Gopal Moran and Prakash Limbu were the coach and the manager of the team.