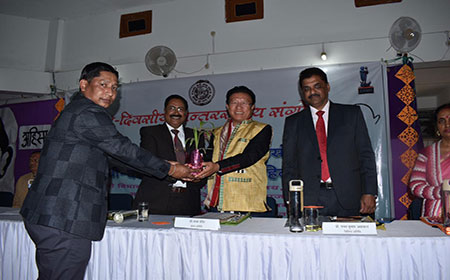 RONO HILLS, Feb 19: The 45th conference of the Bhartiya Hindi Parishad, Prayagraj and three days international seminar on the topic 'Vartman Mein Gandhi-Darshan Ki Prasangikta Tatha Gandhi-Darshan Ka Bhartiya Sahitya Par Prabhav', organized by the Rajiv Gandhi University's (RGU) Hindi Department, concluded here at the university on Wednesday.
The three days seminar had an overwhelming participation of 150 delegates from various foreign countries and also different parts of the country.
The deliberations covering all relevant dimensions of the theme of the seminar were spread over 12 technical sessions with chairpersons of eminence from different Indian universities and institutes conducting the sessions to illuminate various aspects related to Gandhi and his philosophy, and Indian Literature modelled upon the same.
Attending the valedictory function of the seminar, Education Minister Taba Tedir congratulated the RGU's Hindi Department. Tedir explained the constitutional status of Hindi as an official language, and expressed how as an Arunachali, he takes pride in speaking in Hindi.
RGU Vice-Chancellor Prof Saket Kushwaha advised the students to follow the path of Gandhi for overall personality development and character building. He urged the students to work hard in all fields of pursuit to achieve the real India dreamt by Mahatma Gandhi.
Sahitya Akademi and Padma Shri awardee YD Thongchi was honoured with the 'Hajari Prasad Dwivedi Samman' by the Bhartiya Hindi Parishad on the occasion.
Accepting the recognition, Thongchi remembered the work and contribution of Achraya Hajari Prasad Dwivedi for the development of Hindi language and literature.
RGU Registrar Prof Tomo Riba, Bhartiya Hindi Parishad Up-Sabhapati Prof Pawan Kumar Agrawal, Uttar Pradesh Hindi Sansthan Editor Dr Amita Dubey, RGU Faculty of Languages Dean Prof Oken Lego, Prof Harish Kumar Sharma and RGU Head Department of Hindi Dr Shyam Shankar Singh also spoke on the occasion.