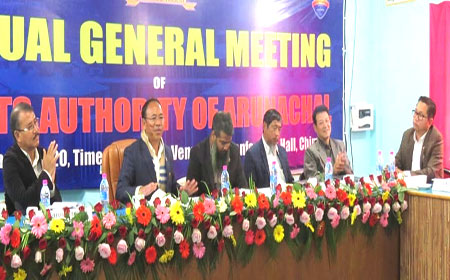 Staff Reporter
CHIMPU, Mar 12: The Sports Authority of Arunachal [SAA] on Thursday approved a budget proposal of Rs 10.37 crore [Rs 10, 36,97,580] for 2020-21.
The budget was presented during the SAA'S annual general meeting by SAA Director Gumnya Karbak.
The meeting also approved the proposal for creation of five new posts of sports instructors for arm sports, handball, kickboxing, hockey and basketball.
It also enhanced the salary of the existing coaches of the SAA from Rs 25,000 to Rs 35,000 – an increment of Rs 10,000.
Advertisement for recruitment of already-created 19 posts of coaches/instructors is also likely to be floated soon, the meeting indicated.
Sports Minister Mama Natung said the state government has allocated a good amount of money to the sports sector despite a huge fund cut by the Centre due to "less tax collection" because of the "economic slowdown."
The state government has allocated Rs 29 crore in the state budget for the sports & youth affairs department – the highest allocation so far.
"Producing Olympians and winning Olympic medals should be our sole and ultimate goal, and we should work towards this end," Natung said.?
"Our youths have naturally acquired talents. All they need is support and opportunity to spark their talents," he said, and urged all stakeholders, including the sports bodies, to work together as a team towards achieving the goal.
He said "sport is the only sector which can bring hidden Arunachal into limelight."
Sports Secretary Ameya Abhyankar said "sports discipline with the chance of winning medals should be given high priority and developed as medal prospects."
"Besides a few other disciplines, Arunachal has huge potential in gymnastics, and the state can produce even world-class gymnasts," he said.
There are a total of 42 sports bodies, out of which the badminton, boxing, football, karate, Taekwondo and weightlifting associations have been placed in Category A, categorized by the SAA, based on their performance.
Twelve sports associations have been placed in Category B. They are the archery, athletics, arm sports, bodybuilding, chess, carrom, handball, Judo, sports climbing, table tennis, tennikoit and Wushu associations.
The associations for the rest – aqua, billiard and snooker, basketball, cycling, equestrian, fencing, gymnastics, hockey, kabaddi, kickboxing, kho-kho, netball, paragliding, power-lifting, sepak takraw, strength lifting, lawn tennis, tug-of-war, volleyball, shooting, wrestling, dueball and Paralympics – have been placed in Category C.
It was also decided at the meeting that categorization of the sports associations would be reviewed from time to time and non-performing ones would be downgraded and those in the other categories would be upgraded, based on their performance.
Sports Authority of India's Regional Director, Subhash Basumotary, and Arunachal Olympic Association secretary-general, Abraham K Techi, also provided valuable suggestions during the meeting.
The meeting was attended by all the members of the SAA.