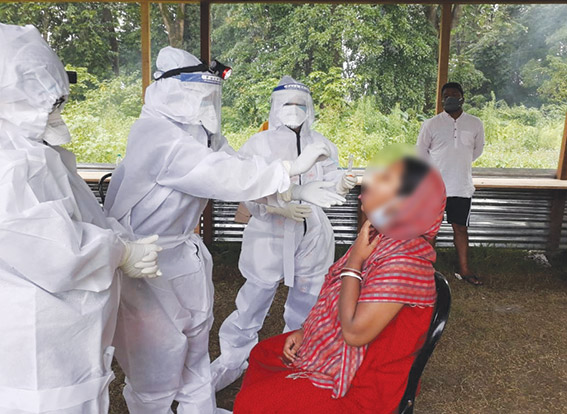 [ Tongam Rina ]
ITANAGAR, May 30: There is urgent need to train the laboratory technicians in Arunachal Pradesh, health experts say as questions are being raised whether precise methods are being applied to collect samples in order to detect presence of corona virus.
The Indian Council of Medical Research (ICMR) in its COVID-19 sample collection guidelines says that the role of the clinician is to "identify the appropriate patient for COVID-19 testing and collect the appropriate specimen."
It mandates that lab technician should have received appropriate training for sample collection from suspected SARI/COVID-19 cases and collect appropriate samples as decided by the treating doctor.
However, health officials admit that there is need to train the lab technicians and that in some cases doctors are not present during collection of samples.
The health department said that ENT specialists have been asked to train the lab technicians.
Secretary health P. Parthiban said that lab technicians were trained before they were assigned to collect samples. Doctors are to supervise the sample collection, he added.
Are samples being collected precisely?
In one video that has emerged from PTC Quarantine centre that has since gone viral in social media, the technician did not apply the right technique to collect sample, health officials say. Doctors say that the technique used by the technician is a perfect example of how not to collect sample.
This is a case of medical negligence, a doctor said while another doctor said that it exposes the lack of training by the technicians.
This daily is not able to confirm whether the samples were collected again.
The PTC technicians were retrained on May 28 by an ENT surgeon.
In another case, Deputy Commissioner Changlang, Dr. Devansh Yadav, a medical graduate wrote to the Secretary Health regarding sampling techniques used for COVID-19 RT-PCR Testing. In his letter, he observed that ICMR guidelines were not being followed while collecting samples which may lead to false negative RT-PCR results. He further wrote that samples are taken by lab assistants and in many instances doctors do not observe the sample taking techniques of these assistants, leading to mistakes.
When contacted Assistant Professor, TRIHMS and nodal officer of State Covid-19 RT-PCR LAB, Dr. Mika Umpo said that it is difficult to find out whether the samples are collected properly.
Dr. Umpo said that he has informed the state health task force to look into the quality of sample collected.
He said that the lab has come across one empty Viral Transport Medium vial on May 24.
Dr. Umpo said that such cases are rare and that a request was sent for recollection of sample, which tested negative.
He says that data errors in collection center have happened citing an example from Itanagar. The medical officer was asked to send in the correct data.
What are the districts doing?
In Lohit where the first COVID-19 case of the state was detected, district surveillance officer and medical officers supervise the sample collection.
District Medical Officer, Dr. Sajinglu Chai Pul said that two lab technicians were trained at RMCR, Dibrugarh who later trained the rest of the lab technicians.
All the lab technicians are trained on oropharyngeal & nasal swab collection, Dr. Chai Pul said.
More than 400 samples have been collected in Lohit so far.
In Lower Subansiri, a Microbiologist and an ENT surgeon personally supervise sample collection. Some samples in every batch are taken by the doctors themselves, said DMO, Dr.Tage Kano.
He said that all the laboratory technicians are trained. They are trained on taking oropharyngeal as well as nasopharyngeal swabs as per the COVID-19 SoP, Dr Kano said.
The microbiologist attended the training of trainers in Itanagar and laboratory technicians were trained at Ziro, Dr. Kano said.
In Namsai district, the doctor is present when the samples are collected.
What has to be done next?
Health officials say that competent trainers have to be engaged to train all the lab technicians. It would be fatal if the samples are not collected properly, one doctor said.
The whole exercise by the government to test everyone who returns home from rest of the country would be futile if the sample collection is not done properly, another said.
"To ensure that the swab sample is taken appropriately the incharge doctor should be present during the collection. We can't dump this thing on the paramedics. The most desirable situation would be that an ENT Surgeon collects the swab sample or at least it is collected in her/his presence. Sadly, we have very few of them in the state," said a doctor.
Secretary Health said that ENT specialists have been assigned to ensure proper collection of COVID-19 samples.
The shortage of the ENT specialists can be gauged by the fact that only nine have been assigned for the entire state. Each ENT Specialist has been assigned to look after not less than two districts. Impossibly, one has been assigned five districts.