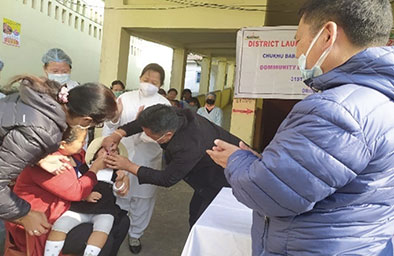 ITANAGAR, 31 Jan: Health Services director Dr. Moromor Lego appealed to the parents and guardians to come forward and get their children below five years immunized against polio.
Attending the launch programme of the National Immunization Day/Intensified Pulse Polio Immunization (IPPI) programme of Itanagar Capital Complex at a polio booth
near the NHM office in Naharlagun on Sunday, Dr. Lego thanked the parents for bringing their children to the polio booth to administer the polio drops. He appealed them to encourage others to bring their children to the nearest polio booth and get their children immunized to achieve cent percent immunization coverage.
Family Welfare director Dr. Emi Rumi commended the parents for such positive attitude and he urged all to cooperate in completely eradicating polio from the country.
Immunization drive under IPPI programme was also carried out in 175 session sites across Papum Pare district. The district has a targeted beneficiary of 5032.
Earlier in the morning, the programme was launched by Papum Pare ZPC Chukhu Bablu  at Community Health Centre Doimukh in the presence of the Papum Pare DMO  and medical office (in-charge) of Doimukh CHC.
Meanwhile, in Khonsa, a total of 1,365 children were administered polio drops of the targeted 1,725 (0-5 years) aged group children during the IPPI drive here on Sunday.
Tirap deputy commissioner Taro Mize who earlier launched the drive at the general hospital here sought cooperation from all denizens of Tirap district to immunize their children (0 to 5) years of age in order to protect them from paralysis due to poliomyelitis.
The vaccination was also carried out in various health centres in the district including 6th Assam Rifles campus.
Khonsa general hospital medical superintendent Dr. Khogen Socia, I/c DMO Dr. Obang Taggu, DRCHO Dr.NidakAngu, DSO(Surveillance) Dr. Palash Rashit were among those who attended the programme.(DIPROs)