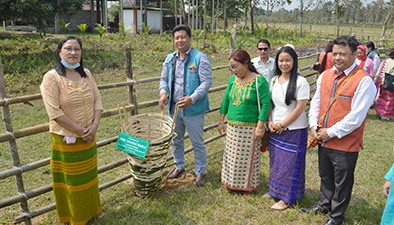 BALIJAN, 16 Mar: Poshan Pakhwada (Nutrition Fortnight) was launched across the state on Tuesday. It will be celebrated as part of the mass movement under the Poshan Abhiyan till 31 March.
The fortnight-long event will focus on addressing the nutritional challenges through 'food forestry' and 'poshan panchayats'.
Under food forestry, the National Medicinal Plant Board will distribute samples of nutrition-rich plants to anganwadi centres in the aspirational districts under the supervision of local panchayats and deputy commissioners, besides organizing awareness meetings at the village level.
Poshan panchayats will be organized with the PRI members to generate awareness on malnutrition and its consequences, poshan vatika, food forestry, and identification and management of children with severe acute malnutrition and moderate acute malnutrition.
The launch programme started with plantation of fruit-bearing trees at the Lower Tubing anganwadi centre here in Papum Pare district as part of food forestry. It was followed by taking of the 'poshan pledge' by the team of the Balijan ICDS project.
In her keynote address, WCD Director TP Loyi stressed the importance of the Nutrition Fortnight as a key component of Poshan Abhiyan. She motivated the anganwadi workers to work diligently on various programmes under the Poshan Abhiyan.
Later, she launched a radio jingle on Poshan Pakhwada, 2021.
Natarajan from the Food and Nutrition Board delivered a talk on nutrition, and provided practical inputs on how the locally available vegetables and fruits can be added to the diet for a healthy lifestyle and how this information can be used by the field functionaries to meet the nutritional requirements of mothers and children.
Papum Pare ZPC Chukhu Bablu appealed to all the GPCs, GBs, anganwadi workers and the public to take up food forestry "as this could be the key to reducing malnutrition." He was very enthusiastic about the idea of poshan vatika, which aims to set up nutri gardens.
He said the village people should take advantage of such national level programmes.