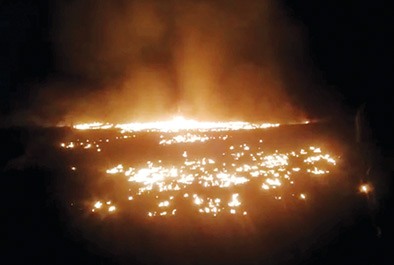 Staff Reporter
INNAO, 17 Mar: A crude oil pipeline of the Oil India caught fire near here in Changlang district at around 4.45 PM on Wednesday.
The fire tenders from Namsai and Manabhum, along with army personnel and police rushed to the spot and managed to contain the fire.
EAC Diyun S Roy informed that no loss of life or property has been reported.
"As per information available to me, a pipeline of Bordumsa was being repaired and some residue in the pipeline caused leakage from there. The officials there informed that a mere leakage should not result in a fire and that they are currently unaware as to what ignited the fire," the EAC said.
He informed that a team of experts are expected to come tomorrow for a survey to find the cause of the fire and suggest precautionary measures.
He said that officials in Manabhum have assured that there is no danger as of now as the fire has been contained.