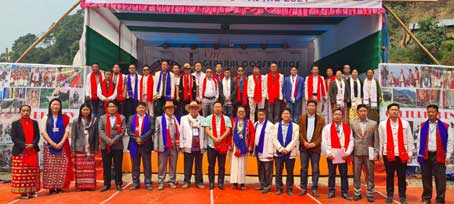 PALIZI, 8 Apr: The two days VIIIth general conference of the Aka (Hrusso) Elite Society, which concluded here on Thursday, adopted several resolutions, which include the demand for creation of Lower Kameng district.
The conference was conducted at Palizi in West Kameng district from 6 to 8 April under the chairmanship of Sheriff Nimasow.
Various issue pertaining to the welfare of people and development of area and preservation of age-old cultural heritage and promotion of tourism were discussed, informed senior leader, Labi Dususow.
The meeting also passed a resolution to adopt the Government Higher Secondary School, Thrizino and render all possible help to run the school.
It was also decided to pursue the introduction of Aka as third language in the schools of Aka-inhabited areas.
Thrizino MLA & Advisor Forest & Environment, Kumsi Sidisow exhorted the people to remain active and work for the development of the area.
The legislator exhorted the newly inducted executive members to work for the welfare of the Aka community. He also assured to give special emphasis to uplift education in the Aka area.