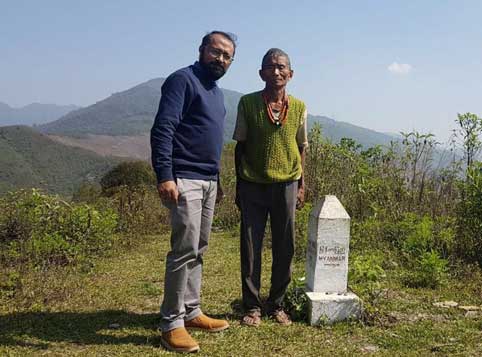 ITANAGAR, 19 Apr: Writer and senior journalist Bidhayak Das from Northeast India has been made the first international democratic goodwill ambassador by the Korean Development Foundation (KDF).
The recognition of Das is part of the newly launched 'International democratic goodwill ambassadors programme' in 16 countries. He is the first of the 16 goodwill ambassadors, and the achievement comes to him for his tireless work for the past 30 years in over 40 countries in different capacities as a journalist, a researcher and a clean election and democracy activist, primarily in South and South East Asian countries.
He has spent considerable time working for highly reputed international NGOs and media groups in Myanmar from 2008 to 2018. During this period, he also worked in almost all the South East Asian countries, and has also spent considerable time working in Afghanistan, Nepal, Bangladesh and Sri Lanka.
Incidentally, Das has been a key figure in the conceptualization of the Bangkok Declaration on Free and Fair Elections, (launched at the UN regional office in 2011) which is a civil society-led good practices and code of conduct on elections.
The Indian Election Commission was also a participant in preparation of the declaration, along with a host of other international election commissions.
Apart from the above, he facilitated training programmes for election stakeholders in East Asia, former Soviet Union countries and South Pacific countries. He has been an active participant in international forums and conferences on media, democracy and elections in Europe, the United States of America and African countries. He has also spent time studying and contributing to the Korean democracy movement.
An award-winning journalist, Das is originally from Shillong, where he was associated with several local, regional and national English dailies, including The Telegraph until 2007. His forays outside the country began with an invitation by the Asian Network for Free Elections group to observe the provincial elections in Aceh (Indonesia) in 2006 post the tsunami and the end of the protracted Free Aceh conflict between the government and rebel groups.
Das has been actively associated with the Shillong Press Club, the Guwahati Press Club and other organizations, such as the Foreigners Correspondent Club of Thailand and the East West Centre, Hawaii, involved in promoting freedom of press and free speech.
The international democratic goodwill ambassador, which is an honorary position, will be commissioned for two years from 1 May, 2021 to 30 April, 2023.
The 16 ambassadors from as many countries will participate in various democracy-related international events and meetings held in various regions. In addition, ambassadors can utilize this chance to share and exchange any information related to democracy in each region.
The KDF is a nonprofit organization affiliated to the government of Korea and set up on 12 November, 2001 in accordance with the Korean Democracy Foundation Act, 2001, for contributing to the development of democracy and honouring the spirit of those who have committed themselves for the democratization processes in the country.