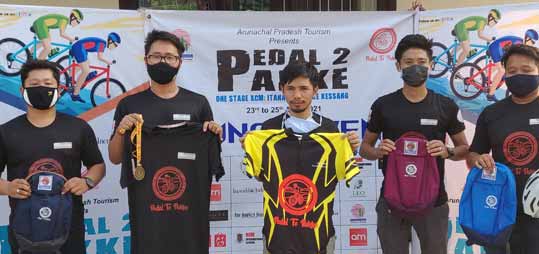 ITANAGAR, 21 Apr: The state tourism department, along with the Itanagar Cycling Association on Wednesday officially launched its logo and merchandise for the 'Pedal 2 Pakke' cross-country marathon (referred to as an XCM) to be held on 24 April.
Thirty cyclists from across the country ranging from professionals to amateurs are expected to arrive at the state capital on 23 April and undertake a 124-km journey, spanning eight hours, in the state's first and longest single-day cross-country cycling competition early next day from the Yupia tri-junction.
The director of the Itanagar Cycling Meet, Ijum Gadi informed that 15 cyclists from outside the state including Assam, Meghalaya, Maharashtra, Nagaland, and Karnataka will be participating in the competition.
Fifteen cyclists from the state will also be taking part, including Ahondo Menjo, who in 2019 won the XCO MTB Challenge at Guwahati, organized by the Assam Cycling Association.
Three women cyclists have also confirmed their participation.
He further said 25 percent of the route for the marathon is off-road and that around 75 percent of it is uphill. At its highest point, the elevation reaches 7,000 feet.
Gadi also explained that the official logo that features the silhouette of a Nyishi man sporting the traditional byopa (cap) riding a cycle.
He said that the logo represents the amalgamation of culture and eco-tourism.
"Arunachal has many beautiful places and Pakke is one of those which  is also very accessible from the capital," he said explaining the reason for selecting the place for the first such marathon.
The competitors will have eight hours to reach Pakke to finish the race to be considered for qualification.
Apart from the podium prizes, the competition will also honour the 4th & 5th positions and the 'most promising rider' on 25 April. The day will also host a recreational cycling hike to create awareness on the environment and a cleaning drive.