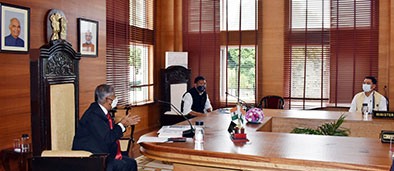 ITANAGAR, 5 May: Worried about the steady rise in Coronavirus cases in Arunachal Pradesh, Governor BD Mishra suggested the state government take 'appropriate actions' immediately to contain the spread of the virus.
On Wednesday, the governor reviewed the current Covid-19 situation in the state with Chief Minister Pema Khandu and Health Minister Alo Libang at the Raj Bhavan.
Terming Coronavirus as one of the biggest challenges of the century faced by mankind, Mishra suggested the government to strengthen health infrastructure to effectively deal and manage the challenges being posed by the pandemic.
"Every citizen has to be motivated to take utmost precautions to cope with the Covid threat," he said.
Mishra proposed a dedicated officer for coordination among all stakeholders for supply of vaccines, oxygen provisions and other medical requirements.
 The DCs, SPs, and the DMOs must be kept in the loop on a daily basis about all decisions and action plans to fight the pandemic.
Mishra also suggested that the state government take strict measures to curb rumors and misinformation about Covid-19 and vaccines.
Khandu informed that eight oxygen plants have so far been installed and 11 more are in the pipeline to meet the future requirements. He also said that more oxygen cylinders are being procured.
Earlier, Health & Family Welfare Principal Secretary Dr Sharat Chauhan briefed the governor about the latest status of the Covid-19 pandemic in Arunachal Pradesh.
Commissioner-cum-Secretary to CM Sonam Chombay, Health & Family Welfare Secretary P Parthiban and State Surveillance Officer-ISDP Dr L Jampa also participated in the discussion. (Raj Bhavan)