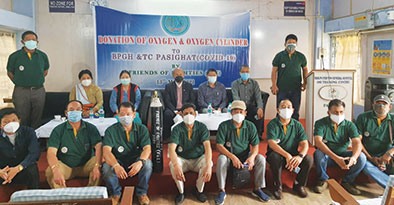 PASIGHAT, 15 May: A group of friends called 'Friends of Eighties' or FoE on Saturday donated free oxygen for a month, along with an oxygen cylinder to Bakin Pertin General Hospital (BPGH) here in East Siang district for treating Covid-19 patients at the dedicated Covid hospital (DCH), which caters to most Covid-19 patients of eastern Arunachal.
The oxygen and the oxygen cylinder were handed over to the BPGH joint director. Local MLA Kaling Moyong, who is also an FoE member, said that "oxygen is the actual medicine during the Covid-19 pandemic." He also announced that, recently, the DCH in Pasighat added 40 more oxygen beds.
The joint director said that the oxygen would benefit all Covid-19 patients of eastern Arunachal.
FoE president Mohonto Panging Pao, secretary Botem Koyu, and member Tage Kakki also spoke.