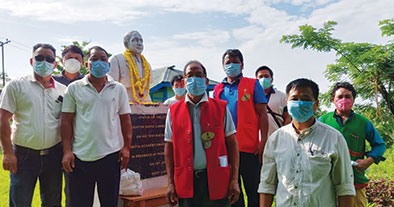 BIHPURIA, 1 Jun: The doyen of literature in Arunachal, Lummer Dai, was remembered on his 82nd birth anniversary by the members of the Bihpuria Sakha Sahitya Sabha, under the aegis of the Asom Sahitya Sabha, here in Assam on Tuesday.
The event featured hoisting of the sabha flag by Lalit Mahanta, followed by lighting of diyas and paying of floral tributes to the illustrious author's photograph by Prabin Hazarika, administrator of the Lummer Dai Centre for Distance Education and Research Centre, Bihpuria.
A discussion was also organized by the Bihpuria Sakha Sahitya Sabha, headed by its president (in-charge) Anil Kakaty and secretary Prabin Hazarika. Sakha Sahitya Sabha general secretary Benudhar Das was also present along with other members.
The prestigious Sahitya Surjya Lummer Dai Award, which is conferred every two years, was, however, not presented this time in view of the Covid-19 pandemic.
Meanwhile, Dai's birthday was also celebrated at his residence in Prem Nagar, Naharlagun, and his birthplace Silluk village in Mebo circle of East Siang district.
On the occasion, the people of Silluk village, including GBs, paid floral tributes to the statue of Dai at the government upper primary school in Silluk. The programme was organized by the Silukian Welfare Kebang.
Speaking about the life of Dai, GB Ashik Yirang said that Lummer Dai was one of the pioneers in spreading education in the state.