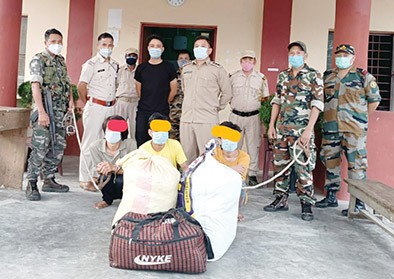 YUPIA, 11 Jul: The Papum Pare rural district police on Sunday arrested three cannabis (ganja) peddlers from Yupia.
Based on an input from a reliable source that a huge consignment of ganja was arriving from Mengio on two motorcycles, Papum Pare SP Neelam Nega immediately formed a team comprising Doimukh SDPO Bomken Basar, Doimukh PS OC Inya Ete and SI Nabam Tate.
The team laid a trap and followed the suspected bikes, which led them to the residence of one Chukhu Jibi in Yupia.
A search was conducted in the presence of a magistrate at the residence of Jibi, and three bags of suspected ganja were recovered from the toilet of the house.
The total weight of the consignment was found to be 36.722 kgs.
The two persons who brought the ganja from Mengio have been identified as R Kakum and T Choya, both 18 years old and residents of Mengio area. They were arrested along with Jibi, and the bikes used by them have been seized.
The police said that preliminary investigation revealed that Kakum and Choya brought the ganja from Mengio for Jibi, who had ordered for the consignment.
The Papum Pare rural district police have appealed to the public to stay away from any kind of narcotic drugs and psychotropic substances. (DIPRO)