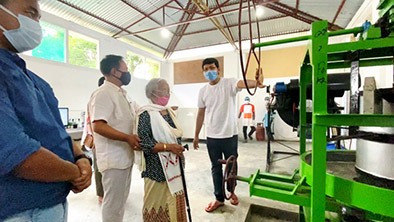 BORDURIA, 12 Jul: Giving a boost to the tea manufacturing industry, a green tea manufacturing unit has been set up here in Tirap district by a young entrepreneur of Borduria village.
Jaawang Lowangchha, who set up the unit, said that tea manufacturing units are needed in places like Borduria to break the nexus between middlemen and tea factory owners. He said that, because of the middlemen, the small tea growers never get the right prices for their leaves.
He expressed hope that the unit set up by him would encourage the villagers to shift from the traditional jhum cultivation to growing tea, apart from generating employment opportunities for the people.
Lowangchha exhorted the educated unemployed youths of Tirap and Longding districts to start growing tea on a commercial basis and become self-reliant.
The unit was inaugurated on Monday by Lowangchha's grandmother Senphiak Wangcha (101), the oldest woman in Borduria, in the presence of Nocte Women Association chairperson Chasuam Wangchadong, DMO Dr N Lowang, and Khonsa CDPO N Matey. (DIPRO)