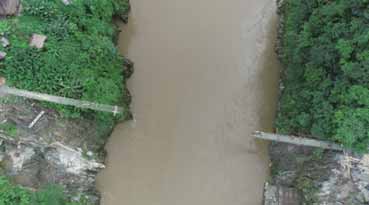 PANGIN/BOLENG, 15 Jul: Residents of Yeksi, Koreng, Pangin and Dosing villages and Pangin and Boleng towns in Siang district recently came together to construct a foot suspension bridge over the confluence of the Siyom and the Siang rivers to restore connectivity to the district.
Two weeks ago, the Bailey bridge over the Siyom river collapsed, breaking a crucial link to the district. To address the crisis, an emergency public meeting was initiated by Pangin-Boleng MLA Ojing Tasing, as a result of which a bridge construction committee was constituted to restore the route.
Tapang Tamut, who led the bridge construction committee said, "After assessment of the situation, the district administration procured rope wires, fittings and other materials within four days, and within nine days, a foot suspension bridge has been built."
Yeksi GB Tatin Tamut said, "The success of this effort lay in the contribution of the members of the community across all generations, from those who prepared the meals to those who perilously lay the bamboo work."
He also said that the newly constructed hanging bridge can not only accommodate 10 persons at a time but can also absorb the weight of two-wheelers.
The team working on the construction of nearby Nugong bridge, as well as GREF personnel aided the community members and provided technical guidance.
Earlier, GREF JE (Civil) V Krishnan informed that the collapsed Bailey bridge would be rebuilt by the first week of October. A permanent bridge is also being constructed at the moment, which will be completed by 31 March, 2023.
The Siang DC, ADC and SP also inspected the bridge and commended the community's effort.
Meanwhile, the district is suffering from another disruption at Rottung. Villagers of Rottung have donated land for the construction of a new Pasighat-Rottung road. The work is underway.
Highway Division EE Dabe Perme informed that 2.5 kms of the Rottung-Pasighat road is complete with 900 mtrs of the route left. The remaining portion involves rocky terrain and will be completed in approximately two weeks, he said. (DIPRO)