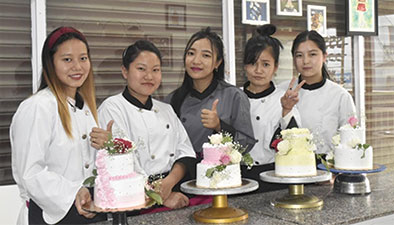 [ Tanuel Nonang ]
The very first of birthday cakes topped with candles being cut can be traced back to the ancient Greeks, who used to bake round honey cakes to symbolize the moon and topped them off with candles. It was basically their way of paying tribute to the moon goddess, Artemis.
Since then, baking cakes has been a delight for people, irrespective of race, age or anything. The practice has come a long way since then, and now almost every birthday is about cakes. The trend of cutting a cake is very popular now, and the popularity of making cakes on-demand with a variety of designs and for different occasions has put the profession under the spotlight, especially for young minds.
Now, from the outside, we might see the baking profession as a very easygoing one, but it is not always fondants, biscuits, doughnuts, cookies and icing sugar at all. Being a pastry chef is a very tough and challenging role that demands dedication to the craft and zeal to carry a profession to prosper. One such pastry chef is Tanya Priya, who owns and runs a popular store-cum-culinary institute in Naharlagun town in Papum Pare district. I got in touch with her for my story coverage.
Tanya Priya hails from Chambang Chimpgi in Kra Daadi district and currently lives in Polo Colony in Naharlagun. She is 25 years old and she is the co-founder of 'Cakes and Bakes', which she established in November 2016 with one Minakshee Dutta. Before even getting professional training, she was already baking for her family and friends back at home. She underwent training in Delhi, where she learnt the advanced level of culinary art, which included preparation of pastries, confectionaries and beverages.
Cakes and Bakes is basically a culinary institute focused on training amateurs as well as professional chefs using modern tools and techniques. It also takes orders and delivers cakes in the capital region. The store has numerous types of products, but cheesecakes are their all-time favourite and are highly recommended. Her team includes four workers who work as a team to manage the operations of the business. The power of central management lies with her. The main service the institute provides is a diploma training course, under which the trainees learn the basic to the advanced level of culinary art and they learn all the techniques over a period of time. It also includes the facilitation and certification of the trainees. Cakes and Bakes has gradually grown over time and has already conducted training programmes for more than 2,000 trainees, covering various courses. Even during these harsh days, they are delivering all the orders and running classes following all the necessary SOPs instructed by the government.
So what is it that makes it stand out from other business entities out there? When asked, Priya explained that the institute was itself established based on not only making a successful career but also with a motto to empower the self-employed people all over the state.
Unemployment is a big issue in Arunachal, where many degree-holding youngsters beat around the bushes in vain just to get a government job when they can easily set up their own businesses if they want to. Most of the trainees, after the completion of their courses, have started their own businesses and are doing well so far.
Priya believes that her store will help her trainees, especially housewives, in setting up their own businesses and becoming self-reliant and independent.
Going on a personal level, I asked her if she had someone as her inspiration to follow this profession. She said, "Right from my childhood, I believed in being self-employed, rather than being employed by others. I needed to be the boss of my own work. My love for cooking has played a major role in my pursuing this career, but as for my inspiration, it has always has been me."
Determination indeed!
One of the hurdles she faced when she decided to follow this career and started her training was financial status, as she belongs to a middle-class family. But because of her determination to follow her dream work and the support she received from her family, she somehow overcame them and now she is a young successful businesswoman.
"Aspire for what you love. No job is small or big. The things you wish to do, you should do wholeheartedly," she said.
She believes that her story will motivate other young dreamers out there to overcome hurdles and follow their dreams, no matter what.
For me, she is no celebrity or someone who has high standards in her lifestyle. She lives like one of us and even likes to play online games on her smartphone in her leisure time.
But what I see in her is not just her; I see in her one of those youths who followed their dreams seriously without giving up. I see her as a person of determination, and I believe that everyone with determination deserves a story of their own.
(Tanuel Nonang is a Mass Communication student, Rajiv Gandhi University and is currently interning with this daily)