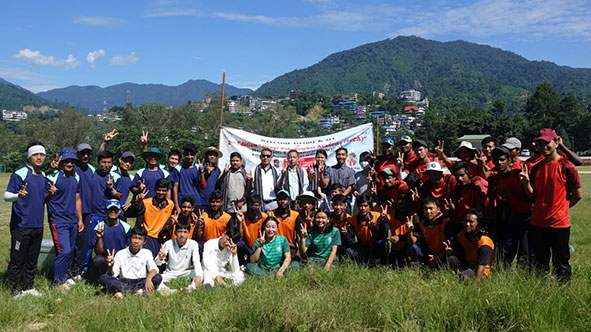 ITANAGAR, 10 Sep: The 2nd edition of the Donyi Polo Cricket Academy's (DPCA) cricket tournament, being organized by the Itanagar Cricket Club, was kicked off by Arunachal Cricket Association (ACA) vice president Nabam Vivek, in the presence of the ACA's honorary treasurer Yab Lala, the Itanagar Cricket Association's honorary secretary Nabam Roger and Genesis MPCS Ltd chairperson Moromi Kino Tayam at IG Park here on Friday.
Vivek in his inaugural address spoke about the calendar events, and encouraged the players to maintain their physical fitness and be mentally strong.
He said that the ACA would shortly establish an "international standard stadium and indoor academy."
Lala urged the district cricket associations and the affiliated bodies of the ACA to keep organizing such tournaments, while Roger commended the initiative to organize the tournament for the benefit of the cricket players across the Itanagar capital region.
Tayam also spoke.
On the opening day, the Kameng team won the toss and set a target of 213 runs in just 42 overs, with Chandan Kr Singh hitting 98 runs and Song Tacho contributing 45 runs. Techir and Nikhil Singh scalped three wickets for the Lohit team, while Suraj Tayam, Neelam Obi, Bamang Chungnia and Kripal Singh took one wicket each for the Lohit team.
In reply, the Lohit team scored only 198 runs in 45 overs. Suraj Tayam hit 45 runs, Manoj Singh hit 42 runs and Neelam Obi hit 25 runs for the team. For the Kameng team, Manash Jha and Chandan Kr Singh took three wickets each, and Roshan Jha and Kale Cheda took two and one wickets, respectively.
The Kameng team won the match by 16 runs. Chandan Kr Singh was given the man of the match award.