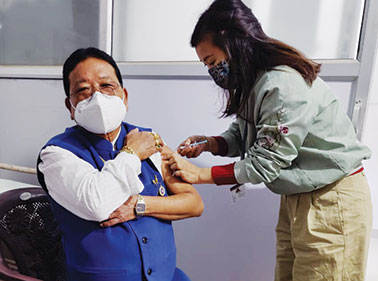 Staff Reporter
ITANAGAR, 10 Jan: A total of 1,151 precaution doses of the Covid vaccine were administered in the entire state on Monday.
These precaution doses can be availed by senior citizens above the age of 60 and registered frontline and healthcare workers.
Though the government has said that registration on CoWIN is not compulsory and walk-ins are allowed for this vaccination dose, registering on CoWIN will help one get a fixed slot.
The highest number of precaution doses (303) was administered in West Kameng district on Monday, followed by 202 in Tawang and 88 in Leparada.
The turnout for the precaution dose was low in a few districts, while some districts, including Changlang, Dibang Valley, Kra Daadi, Kurung Kumey, Longding, Shi-Yomi and Upper Siang, reported nil vaccination.
Regarding vaccination for children in the age group of 15 to 18 years, the health department on Monday informed that, as per the revised notification issued by the health ministry, the birth year of the child is to be considered while administering vaccination, not the date of birth as circulated previously.
"Any child born in the years 2005, 2006 and 2007 are eligible for Covaxin. Children born in 2004 will have to produce a valid photo ID for Covaxin," state health officials informed.
Itanagar Capital Region DMO Dr Mandip Perme stated that, in case a child does not have an Aadhaar card or school ID card, "the health staffers will create a people without identity (PWI) section in the CoWIN portal for such child and then she/he can also get the vaccine."
The state has witnessed an exponential rise in the number of cases in the last one week. The number of active cases stands at 352, in addition to 134 fresh cases on Monday. Altogether 1,511 samples were tested.