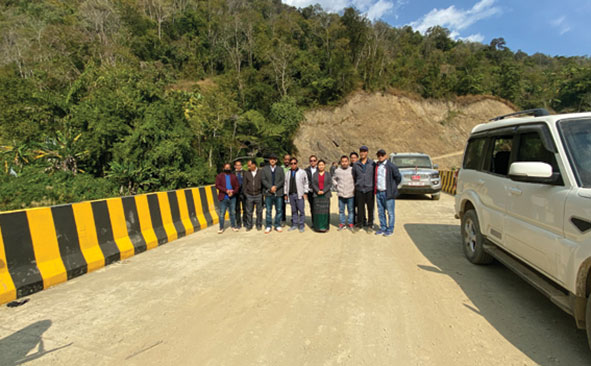 KHONSA, 11 Jan: The construction of the 45-metre-long RCC bridge over the Tirap river, connecting Tutnu with Nogna in Tirap district, has been completed, Khonsa PWD Division EE Wangpong Rongrang informed Tirap DC Taro Mize on Tuesday.
The EE said that the 6.5-km-long Tutnu-Nogna PWD road has also been completed.
Mize on Tuesday inspected various ongoing projects in Lazu EAC headquarters and Tutna block. The DC, accompanied by Tirap ZPC Chathong Lowang, departmental engineers and others, inspected the 6.5-km-long PWD road from Tutnu to Nogna and the bridge over the Tirap river.
He also inspected the PMGSY road from Nogna to Thungjang (8 kms) and asked the work department and the contractor to complete the road within the stipulated time as per the DPR, without compromising with the quality.
Khonsa RWD Division EE Nending Bath and the contractor gave assurance that the construction of the road in all respects would be completed by March this year.
Meanwhile, the DC visited the government secondary school in Upper Kolam, the upper primary school in Nogna and the primary school in Thungjang.
Responding to a public memorandum related to the education sector, the DC assured to address the issues after having a discussion with DDSE Hortum Loyi, who accompanied him.
The DC also created awareness on observing Covid-appropriate behaviour, particularly in view of the emergence of the Omicron variant in the country.
Among others, ADC Kretkam Tikhat, ADEO Kutung Hangphuk and DPC Tehat Tangjang accompanied the DC. (DIPRO)