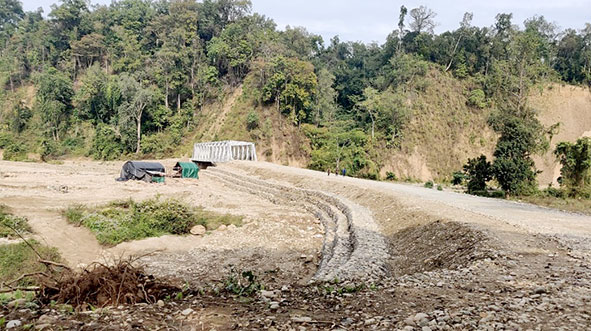 [ Bengia Ajum ]
MIAO, 18 Jan: Even as the deadline for completing the construction of the Miao-Vijaynagar (MV) road in Changlang district is nearing, there is still no clarity on whether the target set by Chief Minister Pema Khandu will be achieved.
Khandu, while on a visit to remote Vijaynagar circle on 25 March last year, had assured the local people that he would ensure completion of the MV road by 31 March, 2022.
Khandu had become the first CM to reach Vijaynagar, the last administrative headquarters near the Myanmar border, travelling 157 kms from here on road. Ever since he gave assurance to ensure completion of the road by 31 March, there is excitement and hope among the people of Vijaynagar, who for long have been denied basic amenities like road, electricity and mobile internet facility.
The 157-km-long MV road has been divided into five packages. The majority of the works under Packages 1, 2 and 3 are almost complete. It is Package 4 (38 miles to Gandhigram) and Package 5 (Gandhigram to Vijaynagar, 16 kms) which are taking time to be completed.
"In Package 4, the contractor has managed to reach up to 72 miles (new alignment cutting) and up to 67 miles the GSB has been laid. To complete the GSB laying up to Gandhigram and to make the road through, it will take another 20 days," informed an official who did not wish to be named.
Regarding Package 5, the official expressed serious concern over the slow pace of work. "The work is very slow. Out of three major bridges, not even one has been completed; and also, out of 15 culverts, none of them has been started till now. Further, the GSB laying is only being done maximum for 3-4 kms, and that too not in a proper manner," said the official.
Expressing fear that Package 5 may not be completed on time, the official added: "The present contractor does not have acumen and resources to complete the road on time."
Further, it is reported that the Changlang deputy commissioner has sent a report to the chief minister's office regarding the delay in completion of Package 5.
The major portion of the MV road passes through the Namdapha Tiger Reserve. Keeping this in mind, the stretch of the road between 10 miles and 78 miles will only have GSB. The National Tiger Conservation Authority has refused to grant permission for blacktopping of this particular stretch of the road.
Tali in Kra Daadi district and Vijaynagar in Changlang are two circle headquarters yet to be connected by proper roads. Khandu has prioritized providing early road connectivity to both areas. However, road connectivity in both circles is yet to be completed.