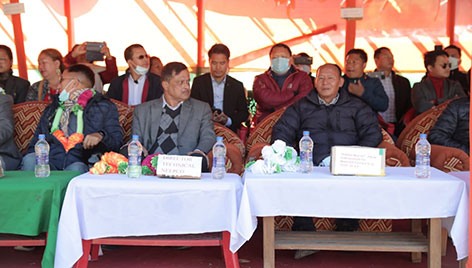 ITANAGAR, 18 Jan: The North Eastern Electric Power Corporation (NEEPCO) Ltd will soon carry out survey and investigation to develop the Kurung hydroelectric project (HEP).
The assurance was given by the NEEPCO's Technical Director HK Deka during his visit to the project site on Monday, according to a release from the office of the advisor to the power and hydropower minister.
A team of NEEPCO officials, accompanied by Palin MLA Balo Raja, Kra Daadi DC Higio Tala and APHPCL CMD Toko Anuj visited the Kurung HEP site to listen to the public and apprise them of the plan to take up the project at the earliest.
Addressing a public gathering after the visit, Deka apologized to the people for the delay in developing the project and assured them that it would be completed at the earliest.
The MoU for the Kurung HEP, with an installed capacity of 330 mw, was signed between the state government and the NEEPCO in 2015.
Although the public expressed unhappiness over the delay in developing the project, "they offered land required for setting up of NEEPCO camp office and accommodation free of cost in the greater interest of the area," the release said.
Earlier, Raja, who is also the advisor to the power and hydropower minister, had a threadbare discussion regarding the project with the NEEPCO CMD in his office here on 24 December, 2021. During the meeting, the NEEPCO authorities were requested to visit the project site to take the public into confidence without further delay.
In order to resolve all pending issues, the MLA had earlier written to the NEEPCO CMD regarding establishing its ED/regional office in Itanagar, which was stated to be "on the process."
The NEEPCO team included Executive Director (Technical) Ronen Sarma, CGM PR Nabam, coordinator Ngurang Sanya and HoP DT Swami.