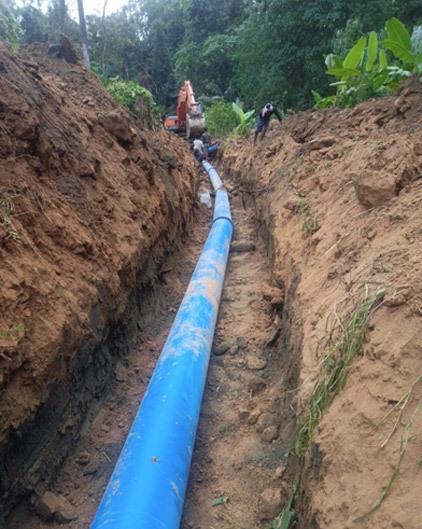 [Pisi Zauing]
MIAO, 20 Jan: A project titled 'Augmentation of water supply at Miao township' in Changlang district is under construction, with its headwork situated at Motongsa village in Nampong circle.
With a sanctioned cost of Rs 28 crores, the task of augmenting the water supply in Miao township (3.57 mld) was awarded to a private party in October 2020, with a 20-month period for completion. The project has to be completed by June 2022.
Immediately after the contract was awarded, the contractor started executing the work with much fanfare, but owing to shortcomings of varied magnitudes, including the wrath of Covid-19, the pace of construction became slow, contrary to public expectations.
However, the contractor regained momentum last September, and work is underway now.
Almost 50 percent of the work is nearing completion, and by June 2022 the residents here and in adjoining areas can hope to get regular and safe drinking water supply.
However, looking at the forest being destroyed upstream of the source, the possibility of the source drying up gradually cannot be ruled out.
Though Miao is a fast developing town, the residents consistently face the brunt of drinking water crisis. The drinking water tapped from M'pen area simply cannot meet the needs of the population that is growing exponentially.
Since most colonies in the township are bereft of the basic amenity, the residents, especially the womenfolk, are regularly seen standing in queues to collect their share of water. Owing to the crisis, most households in the township are forced to rely on spring waters, streams and even the Noa-Dehing river for drinking, bathing and washing.