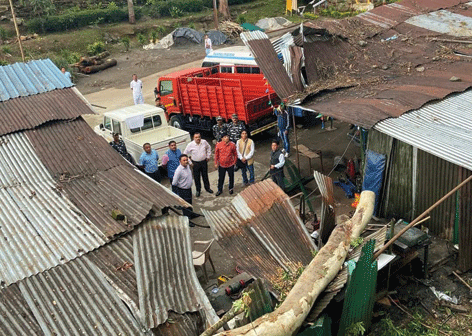 KHONSA, 6 May: Khonsa East MLA Wanglam Sawin, along with Tirap DC Taro Mize, DDMO (in-charge) Pik Tayom, Town Magistrate Ripi Doni, Power AE Dekan Boje, RWD AE Nokchun Chimyang and Khonsa Power JE GK Gautam inspected the storm-affected areas in the 36 Bn CRPF camp and the girls' hostel of the government higher secondary school (GHSS) here on Thursday.
On 29 April, a thunderstorm hit several areas of the district, leaving a trail of devastation behind.
 Interacting with the CRPF Battalion In-charge Bhavesh Chaudhury and GHSS Principal (in-charge) Nokdon Chimyang, the MLA assured to "initiate the matter with higher authority for timely release of relief fund against the loss of properties."
The DC urged the power department to restore the power supply in the girls' hostel as well as in the GHSS immediately "for smooth conduct of ongoing exams."
The DDMO informed that the property damage/loss assessment report was sent to the directorate office in Itanagar on 1 May.
The DDMO and the town magistrate had also assessed the damages to the roof of the indoor stadium of the RK Sarada Mission Girls' School here, that was blown away by the storm.
The power department AE assured to restore the line to the GHSS by 6 May, adding that "one power generator has been installed on a temporary basis at the GHSS to ensure conduct of exam."
The RWD AE informed that the department "cleared all the fallen trees from the roadside from day one of the storm for the convenience of the commuters."
As per the report submitted by the DDMO and the town magistrate, at least 31 buildings were fully damaged while many structures, including residential schools, anganwadi centres, hostels, government quarters, huts, shops, etc, suffered partial damages. Four vehicles belonging to the 36 Bn CRPF were also reportedly damaged. (DIPRO)