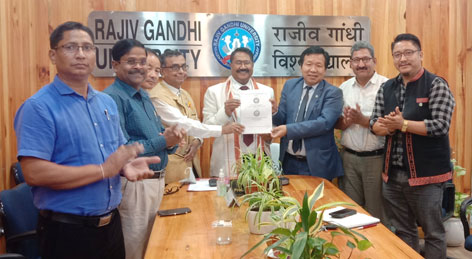 RONO HILLS, 12 May: A memorandum of understanding (MoU) has been signed between Rajiv Gandhi University (RGU) here and Jaunpur (UP)-based Veer Bahadur Singh Purvanchal University (VBSPU) for academic and collaborative researches in areas of mutual interest.
Both parties have decided to work jointly on set terms and conditions in identified areas of mutual interest, in accordance with the prevailing regulations and norms of either or both the parties, as may be applicable.
RGU Vice Chancellor Prof Saket Kushwaha termed the inking of the MoU "a welcoming step towards achieving academic heights on mutually benefitting parameters for both the parties." He said that "the research projects under the MoU will instil positive vibes in the socioeconomic and cultural development of both the states."
The VC emphasised on "undertaking extension, outreach, documentation and sensitisation programmes on various cultural-related studies" and expressed optimism that this joint venture would yield the desired results.
RGU Pro-VC Prof Amitava Mitra said that the "interdependency factor will benefit both the organisations" and emphasised on maintaining a functionally active MoU.
RGU Registrar Dr NT Rikam said that "both parties mutually agrees for financing of joint activities from internal and external sources available with them, as per the discretions and the responsibilities bestowed under the mutually discussed and agreed upon agreement for each specific cooperation and activities."
VBSPU VC Prof Nirmala S Mourya, who took part in the event virtually, said that the "basic purpose of this MoU is to yield optimum benefit while maintaining institutional accountability and professional and social responsibility in right perspective, keeping in view the huge scope of cultural exchange-based research and training."
VBSPU nodal officer Dr Manoj Kumar Pandey said that "any applications for joint ventures will be done ensuring appropriate protection of intellectual property rights generated from such cooperation, consistent with their respective laws, rules and regulations."
Earlier, RGU Joint Registrar Dr David Pertin said that the venture would be "academically very viable, especially in terms of exchange avenues for students, academic fraternity and researchers alike, wherein any registered students or researchers of either of the varsities could get enrollment for a period of one semester and get benefitted immensely."
He informed that the MoU will remain active for the next three years.
RGU IQAC Director Prof RC Parida advocated "playing the role of a facilitator in implementing the programmes and activities envisaged in the MoU."
The MoU was signed by RGU Registrar Dr NT Rikam and VBSPU Management Studies Dean Prof Avinash D Pathardikar.