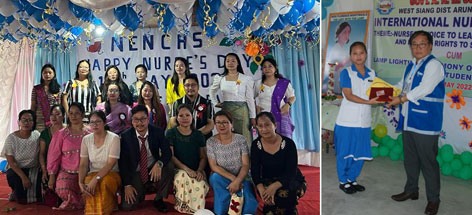 AALO, 12 May: International Nurses Day (IND) was celebrated by the 6th batch of the auxiliary nursing midwife (ANM) students of the Government ANM School (GANMS) here in West Siang district on 12 May to commemorate the 202nd birth anniversary of Florence Nightingale.
Deputy Commissioner Penga Tato, who along with DACO Dagi Angu inaugurated the function, encouraged the newly inducted 6th batch ANM students to be sincere and dedicated in their duties.
Angu advised the newly inducted ANM students to be hard-working and dedicated "for the cause of society in their training period."
DMO Dubom Bagra, Dr Jombom Kato and GANMS Principal Meena Koje also spoke.
The North East Nursing College of Health Sciences (NENCHS) in Lekhi, affiliated to RGU, also celebrated the International Nurses Day.
Attending the celebration and the prize distribution ceremony, RGU Joint Registrar Dr David Pertin spoke on the significance of observing the day to highlight and appreciate the important role nurses play in healthcare. He described nursing students as "the vital part of the backbone of the healthcare system in the making."
The event was conducted under the supervision of NENCHS principal Visheili Sema and faculty members of the college. (With DIPRO input)